The Herald reports:
In October 1996, Palmerston North detective Brent Garner was found beside his scorched home, bound and gagged.

A crude pentagram had been carved into his back. He had survived a visit from "The Executioner", a Satanic maniac so bizarre, detectives on the hunt for him thought the only place he could exist was in the movies.

And now he does. Venus and Mars revisits the dual police investigations in the hunt for Garner's attacker.

Venus was the official investigation in which detectives believed The Executioner was real. Several weeks later a covert operation — Mars — was launched in which Garner was treated as a suspect. It was led by Inspector Grant Nicholls.

The police suspicions were right — the 32-year-old had faked the crimes so he could claim insurance money to build a new life without his wife and two young daughters.
I'd forgotten about this case, until reading this article. It all comes back though.The only thing bigger than the original investigation was when they announced Garner's arrest for faking his own attack.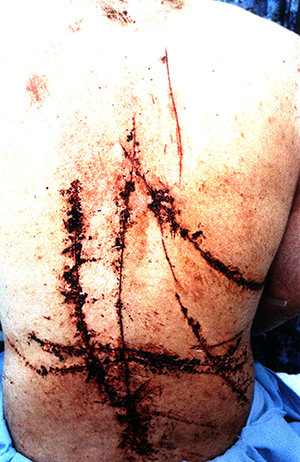 I especially recall how painful it must have been, and difficult, to disfigure himself. You have to have something seriously wrong to do that to yourself.